4 April 2018
Share
The Guardian, Tim Walker
Would you drink Danny DeVito's limoncello? The big names trying to sell us booze
From George Clooney and David Beckham to Jay-Z and Fergie, stars are adding a dash of glamour to tequila, whisky and champagne. In Drake's words, it's 'one sip, and wooh!'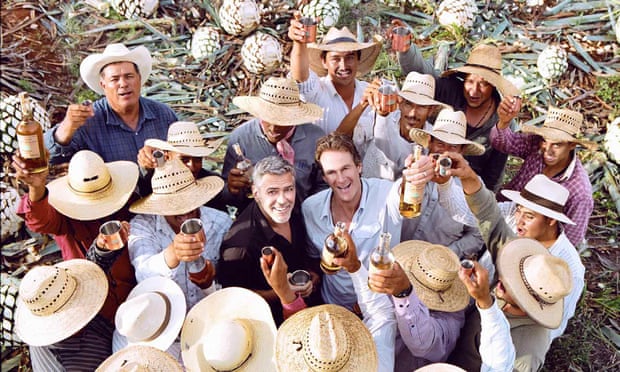 George Clooney and Rande Gerber with Casamigos tequila producers – they sold the brand for $1bn last year. Photograph: Diageo
Celebrities used to be more famous for drinking booze than for producing it, but these days famous people are no more likely to take a wine than they are to take an entire winery. Case in point: actor Ryan Reynolds, who recently announced his purchase of Portland-based Aviation gin from its previous owner, Davos Brands, after first tasting the stuff a year ago.
While Davos has not disclosed what Reynolds paid or what percentage of the craft gin brand he owns, the firm says the Deadpool star will play an active role in the business. Gin is far from being the most popular spirit in the US market, but it might be a smart investment, says Joel Harrison, co-author of the award-winning book Distilled. "There has been a 'ginaissance' in Europe over the past five years," he explains. The premium mixer brand Fever-Tree plans to begin distributing directly to the US, "which means Americans will soon have a genuinely good tonic to make gin and tonic. I think we'll see a rise in gin sales as a result."
Far from being sceptical, Harrison welcomes the star power a celebrity can bring to a spirits brand. "I champion anything that encourages people to get liquid to lips," he says. Here are a few of the other big names doing just that.
George Clooney
Tequila
None of Reynolds' Hollywood peers have dived more smoothly into the drinks industry than George Clooney, who last year sold his tequila brand, Casamigos, to Smirnoff and Johnnie Walker owner Diageo for $1bn (£712m). Clooney launched Casamigos in 2013, with Cindy Crawford's entrepreneur husband, Rande Gerber, and property developer Mike Meldman. The three men own adjacent homes in Los Cabos, Mexico.
Francis Ford Coppola
Wine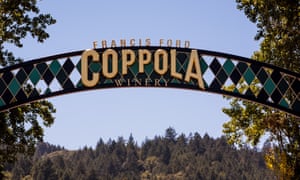 The film-maker is the godfather of Hollywood vintners. He bought a Napa Valley winery in 1975 and created his first vintage two years later. Today he has two vineyards in the region: the Inglenook Estate, which produces premium wines, and the Francis Ford Coppola winery, which makes respectable mass-market plonk with his name on the label. "Inglenook is a special place," says British master of wine Tim Atkin. "Coppola has definitely made some great wines."
David Beckham
Scotch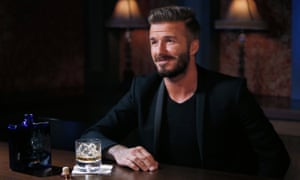 David Beckham and Simon Fuller partnered with Diageo to launch a scotch whisky, Haig Club, in 2016. Plastering Beckham all over the branding "brings a cooler, livelier element to scotch, which needs to break free from the image of tweed suits and leather armchairs", says Harrison.
Sammy Hagar
Tequila/rum/mezquila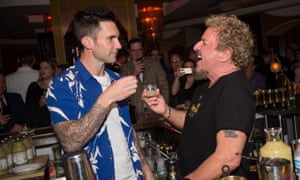 Brad Pitt and Angelina Jolie
Wine
When the pair split in 2016, connoisseurs were concerned about the consequences for Miraval rosé, the award-winning wine produced on the couple's Provençal estate. Their vintner, Charles Perrin, insisted last year that they intend to maintain the vineyard as "an investment for their family and their children". Atkin describes the rosé as pleasant, but adds: "Provence rosé doesn't taste of much. It's hard to make a bad one, but it's hard to make a very interesting one."
Sean Combs
Tequila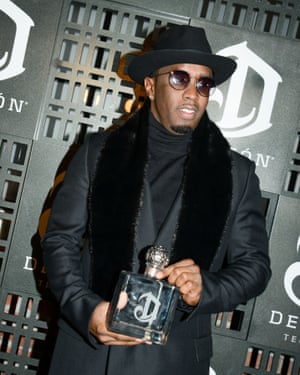 The rapper, producer and entrepreneur also known as P Diddy was first hired by Diageo to be the face of its Cîroc vodka, a deal that reportedly increased sales by 4,000%. In 2014, Combs upgraded by purchasing 50% of DeLeón tequila in partnership with Diageo.
Dan Aykroyd
Vodka
The Blues Brothers star launched his Crystal Head vodka in 2007. There's no mistaking it for another brand: it comes in a bottle shaped like a skull. "It's a good product with interesting packaging and it puts a wry smile on the face," says Harrison. "Sometimes we forget the drinks business is part of the entertainment business and it shouldn't be taken too seriously."
Channing Tatum
Vodka
The actor debuted his Born and Bred vodka brand last year, partnering with the Grand Teton Distillery in Idaho, reportedly after setting out to find "the best vodka in the US", a country not usually associated with vodka production. Born and Bred is made with Idaho potatoes so it's as American as french fries.
Jay-Z