17 August 2020
Share
Sam Neill On His Social Media Fame: "If It's Cheered Up One Or Two People, Then My Time Was Well Spent"
Easily one of the country's finest (adopted) actors and certainly among its most admired, Sam Neill has also spent four decades as one of its most prolific. But as the film industry ground to a halt, we caught up with Neill to discuss this new age of uncertainty, the future of the arts and his recent foray into social media stardom.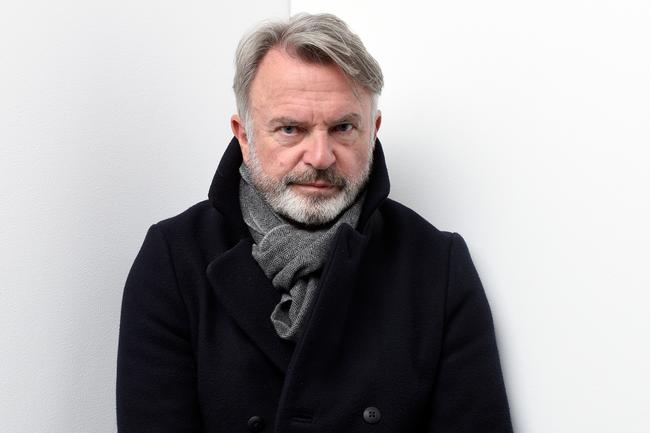 Refined, complex, easy to enjoy. They're just some of the qualities that draw people to pinot noir, the speciality of New Zealand's Two Paddocks winery. But they could just as well describe its owner, the beloved actor Sam Neill. He's been producing his favourite drop for the best part of 27 years, and gracing our screens for more than 40.
But while experts will tell you pinot noir does not tend to age particularly well, the same could not be said for Mr Neill, who, it must be said, has aged phenomenally. At 72, he has the face of a man at least 10 years younger.
"Sorry, I'm still in my pyjamas," he says, as he greets us over video in the midst of the nationwide lockdown. "But there didn't seem to be any rush to get up and out today."
Born in Northern Ireland and raised in New Zealand, Neill arrived in Australia in the '70s during what felt like a pivotal cultural moment. It was the decade that gave us the Sydney Opera House, as well as iconic Australian films Wake in Fright, Picnic at Hanging Rock, Mad Max and My Brilliant Career, in which Neill delivered a breakthrough performance alongside Judy Davis.
And yet throughout a career that has spanned more than four decades, he has nurtured an almost pathological aversion to the spotlight. The year he starred as Dr Alan Grant in Jurassic Park, the highest grossing film of 1993, he headed not for Hollywood but for the wilderness of Central Otago, where he planted the first grapes at Two Paddocks.
Still, he is almost universally admired, if not adored. He won the Longford Lyell lifetime achievement award at last year's AACTAs, and more recently he has found fresh appeal as somewhat of an unlikely Instagram sensation. Among the charming posts of him singing, strumming his ukulele and appearing in short films alongside friends such as Helena Bonham Carter, it would be easy to assume he didn't have a care in the world.
But as the shutdown continues and work for actors dries up, Neill is desperately worried about the future of the industry – and what the crisis means for the arts, in the years ahead.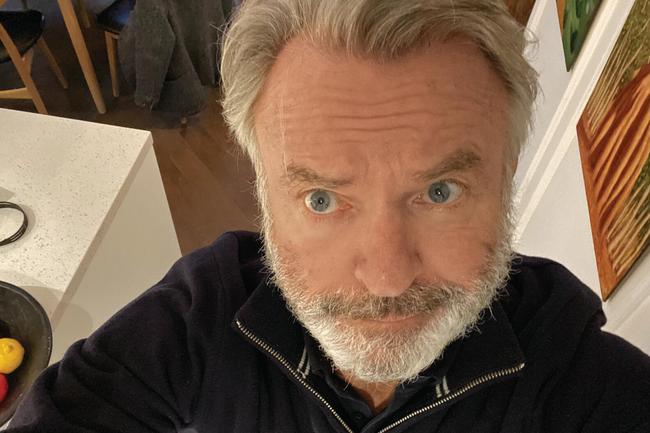 GQ: Things are pretty sleepy at the moment. Are you looking forward to getting out and about, when the country opens up?
Sam Neill: Well, I'm concerned that people are rushing back to some semblance of what was before, but now it's time to be more cautious than ever. It's human nature to think that it's all over, but if we get a second wave, then we're all in deep shit. So my activism today extends to not getting out of my pyjamas.
You're taking a stand.
I'm taking a stand, right here!
Are you itching to get back to work, or have you been enjoying the time off?
I want to get back to work – I need to get back to work – but on the other hand, it's been rather good having to just slow down and pay attention to some things that the hecticness of modern life doesn't permit you to properly enjoy. So I've just been completely engaged min a whole lot of things that I wouldn't normally have time to do.
What kind of things?
I used to play the ukulele badly and now I've picked up my ukulele again and I'm playing that once more – badly. I don't sing very well, but I've just discovered the health benefits of singing, and I went down to an arts and crafts shop and got a paint set as well. So I've been doing all those kinds of things and I'm so flat out with all of it, I don't get time to ponder all the what-ifs and spiral into those dark thoughts, late at night.
Are you watching much TV?
Oddly enough I've hardly turned on the television during lockdown because there aren't a lot of things I want to see and I certainly don't want to see the news – I find the news deeply depressing, if not distressing. When I see the charts of new infections in the United States or Russia – places that really aren't run well – you just wonder who put these idiots in charge? And I get angry. But once I realised I didn't want to watch the news anymore, it was like a burden came off my shoulders and I just felt better.
You've also been keeping yourself busy on social media.
I've been on social media for a few years now, doing stupid stuff. It was Mother's Day a few days ago and I thought: what are the qualities that I really admired about my mother? One of them was that she was a cheerful person and I think that's a wonderful quality to have.
When COVID was kicking in, there was so much uncertainty and anxiety and fearfulness – no one knew if this was the end of the world or a bloody zombie apocalypse – so it seemed self-evident to me that my content should be reassuring and soothing and generally cheerful. If it's cheered up one or two people, then I feel like my time has been well spent.
Did you have much work in the pipeline, before things shut down?
Yeah, I've got a couple of films that are due for release. I should be shooting Jurassic Park 6 [Jurassic World: Dominion, due out next year] in London, but we don't quite know when we'll get back to that. I can't wait to do so, but no one knows how to shoot a film right now. They've built these sets in Pinewood [Studios, outside of London], and so there's been enormous investment made, and we need to capitalise on that. But how we do it, nobody knows.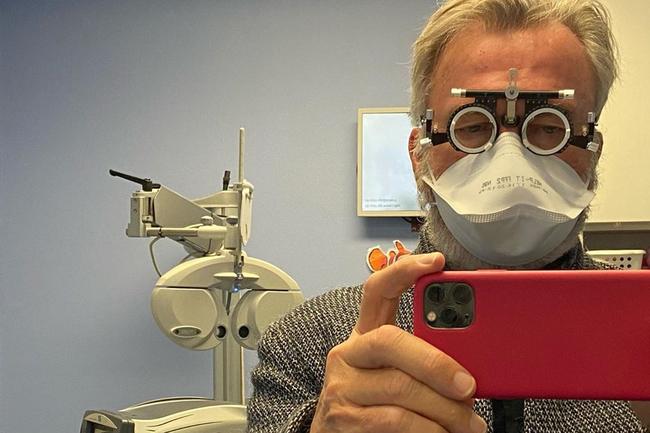 How worried are you for the Australian acting community at the moment?
When you commit yourself to being an actor, you've committed already to a life of uncertainty, but this is a lot more than that. We know with complete certainty that there is no work for anybody in the foreseeable future. There just isn't. How do theatres work? How do we get a crowd back in a room? So I'm extremely concerned about the wellbeing and welfare of my fellow actors. Their incomes, their mental health, their futures. I'm very worried.
And the local film industry?
The film industry probably has a better shot at getting back on its feet, but then again, what's a film industry without a cinema? Television's good, but it ain't the cinema. So it's a bleak future for the arts in general, and this government doesn't seem to be particularly worried about that. But I'm worried. And any government that doesn't care about culture is hardly worth a damn.
You've spoken of getting your first taste of acting at boarding school in New Zealand. Has that initial thrill stayed with you?
It changed because that was on stage, and I gave up the theatre a long time ago. I used to get the most terrible stage fright and I found it extremely  stressful. Every day before I went on, I felt like I was going to die. But I love going to work on a film set. It's taken me to every tiny corner of the world, and it's been a very rich, varied journey. Coming from a little tiny corner of New Zealand, I never imagined that any of this would be possible.
What did your parents think of you becoming an actor?
I don't think they ever thought it would be viable. So they were as surprised as me when I actually started to get regular work. But they were very worried. I came out of university and didn't seem to have any prospects or ambitions at all. I think they thought I'd end up living on the streets, but it sort of turned out. And they got quite a deal of pleasure from seeing me on screen.
When did you start to think it could be a career?
I came to Australia in 1978 and that was when I realised that I could make a living as an actor. I was nearly 30 at that point, so it was a late start. But I've been a full-time movie and television actor since then – and no one is more surprised than me.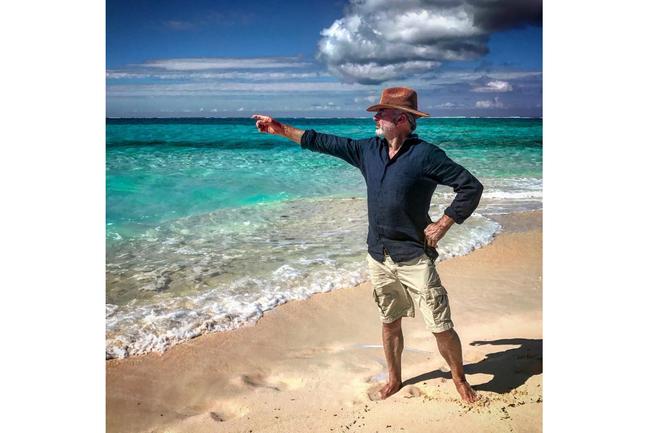 You're still surprised you made it as an actor?
I did a documentary last year about mental health in the arts [The Show Must Go On] and I hadn't realised there is a name for it: imposter syndrome. Many actors suffer from this and think, 'I'm not a real actor and I'm not very good'. It's always in the back of your mind. But it's also a useful thing that every time I start a film, I feel like I have to prove myself in some way and that I've forgotten what screen acting is.
I've got a new formula, actually. I've been watching a Ken Burns country music series [2019 miniseries Country Music] and someone is asked: "What is country music?". They say it's very simple: Three chords and the truth. And I think that's what screen acting is, too. Three chords and the truth.
It's about knowing your range?
You can tell when actors are going to the chords that they really don't need. Some of the best screen acting is very simple but truthful, and it takes you a while to work that out. But I actually don't think you should just work within your range – that's a mistake, too. You should always think, 'Oh, I haven't been there before'. Some of my best work is when I've been unsure whether I can actually pull it off.
Which roles spring to mind?
Peaky Blinders, for instance [Neill plays Irish police chief inspector Chester Campbell]. I remember that first day shooting thinking, 'Jesus, I've bitten off more than I can chew here'. Then I walked on the set and as soon as I opened my mouth with that Ulster accent, I thought, 'This is going to be more fun than anything I've done before'. But I was shitting myself before we started.
Many people would know you from the Jurassic Park films. Did the original feel like a turning point in your career?
No, it was sort of business as usual. Since I started, I've sort of puddled along at the same speed. I've never had a supercharger in my engine, nor did I particularly want one, and I've always been in work. But when people call me a celebrity or star or something like that, these words are completely meaningless. Because I know people who are stars and I'm not one of them – they live completely different lives to me, and I don't envy them.
Which aspects of fame make you uncomfortable?
Personal security, for one thing. I can go into a restaurant and be perfectly left alone. No one bothers me. I'm unremarkable. But I'm comfortable being unremarkable.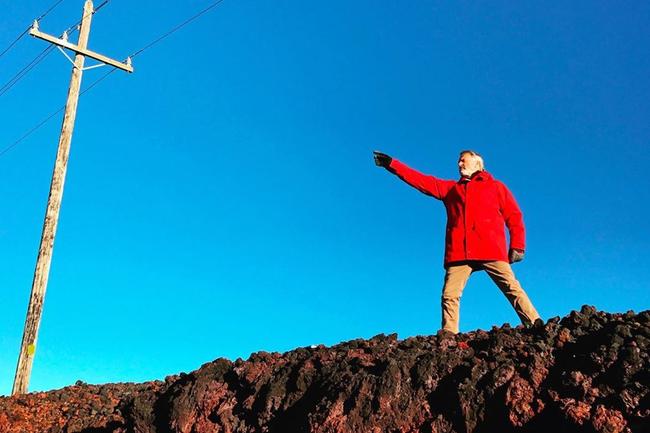 Is that partly why you never made the permanent move to Hollywood?
I did take my family over at one point in the early '90s and spent a year in LA, but every job I did that year was in Argentina, the Czech Republic – anywhere but Hollywood. And I thought, 'Why am I living in Hollywood if I'm not working in Hollywood, and I don't really like it here?' I like going there, I have a lot of friends there and I'm always happy to work there, but I just don't want to live there. It's not conducive to my state of mind.
What is it about the place?
It's a cliché but people say it's a factory town because everyone you meet is in showbiz – even the waiters – and there is no other subject that people are interested in. I don't really care about what's doing well at the box office or what the numbers are. I don't give a shit! But that's really all people there are interested in, and I find it limiting and pretty dull.
As you say, you got a fairly late start. How would you have handled success if it had come earlier?
That's a bit of an imponderable. That part of me that says this has all been a big fluke, it keeps your ego in check. But actors do things very differently now. They go into Neighbours at 16, by 18 they're in Hollywood and by 21 they're barely recognisable as Australians. That's fine for them, but it's not something I would do – or could do. But everyone has their own trajectory.
Do you think that faster trajectory can make success go to an actor's head?
I think there is a tendency to undervalue actors, that they're often seen as slightly brainless. But my experience of actors is that they're generally smart people, funny people, and although always insecure, most of them work out how not to be arseholes.
The same year Jurassic Park came out, you set up your winery in New Zealand's Central Otago. Not very Hollywood.
I built my house there in '87. Then I planted my first grapes in '93, my first vintage was '97 and things took off pretty quickly after that. By 2000, I'd expanded into three vineyards and as of 2014, it's now four. So it wasn't really until I realised we could produce a pinot noir that I was very proud of, that I really got serious. Once I got bitten, there was no going back.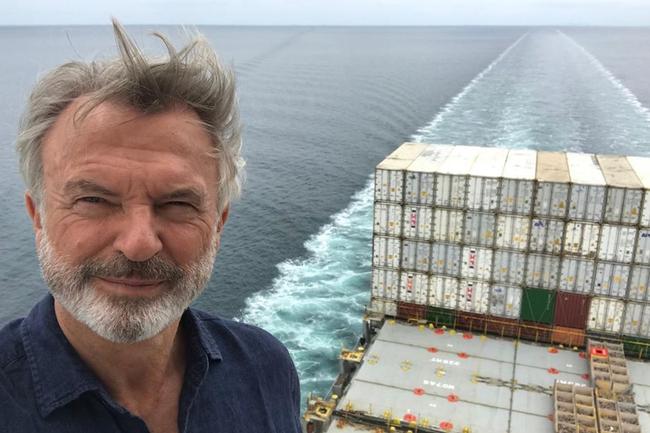 Why pinot noir, in particular?
It's always been my favourite wine. It is the most elusive of grapes, the most difficult to grow and the most elegant of wines when produced properly. But for me, wine drinking is part of living well.
It seems a lot of people would agree with you – alcohol sales have been booming during lockdown.
Well, I'm encouraging people in lockdown to actually drink less. I know people are going, 'Oh it's three o'clock, I think we can start the wine now!' and I understand it. But my motto is: drink less but drink better. Rather than two or three bottles of something ordinary, spend that money on a really great bottle of wine and take the time to enjoy it, not just glug it down.
Sounds like good advice.
Another reason not to drink too much in lockdown is that wine is really also about food and company, as it has been for millennia. It's about conversation and about bonhomie and those things. It's really critical to a life well lived.
Speaking of a life well lived, you won the Longford Lyell Award at last year's AACTAs, and you said in your acceptance speech that you're far from done. What's still on the list?
I don't know. There's probably half a dozen actors in the world who can direct where their career is going to go. But one of the great oddities of life as an actor is how little control you have – you're very dependent on what script comes through your door. That's quite liberating in a sense, but it's also scary as shit – you just don't know what's next. But what's the choice? You could be an accountant who goes to the same office for 40 years, or you could choose the random nature of someone throwing the dice. I think I'd go for the gamble.
It's been more than four decades since you first arrived in Sydney, with that dream of being an actor. What keeps you rolling those dice?
I said in that acceptance speech I'd still like to put a few runs on the board and partly that's because I'm still learning about what it is to be an actor and what a performance is. There are times you think, 'Oh my God, I did play the right chord there', when you and the actor you're working with really harmonised – and I'm stretching the country music analogy here – but for a moment we were Dolly Parton and Kenny Rogers.
Jake Millar
GQ